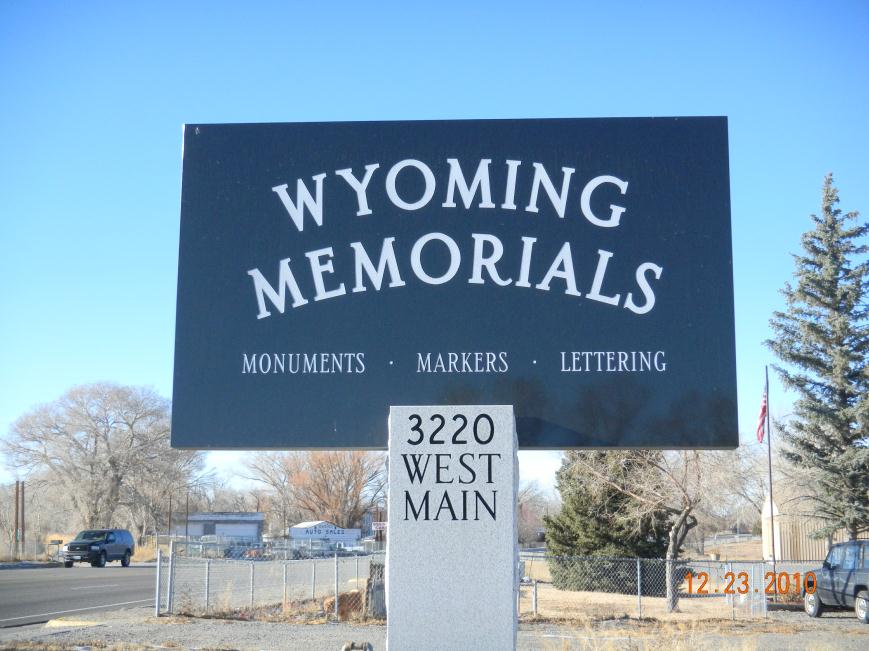 PERSONALIZED MONUMENTS, MARKERS, AND MAUSOLEUMS

GRANITE - BRONZE - CEMETERY LETTERING

We invite you, at your convenience, to come

by and look over our display of monuments and

markers. This way, you can determine for yourself

just what is most suitable to fit your needs.

We have been involved in the monument industry

since 1972, opening our own shop in Riverton in 1984.

We pride ourselves in quality work,

service, and customer satisfaction.

This site will provide you with some examples of our past work and in stock memorials to

give you an idea of the styles and designs

we have to offer.

We are located on the north side

of US Hwy 26/Main St.

in Riverton, about 1/4 mile

west of Central Wyoming College

Click on the links to navigate our site:

Call us at: 307-856-7938

or e-mail:

wyomingmemorials@wyoming.com

Visit us on

to view our in stock

monuments.

Available for immediate personalization and delivery

Click the word FACEBOOK above, then choose PHOTOS from our page to view the albums